PxWe - Future Practice
WeWork
---
PxWe | Future Practice, pioneering the future of vertically integrated spatial experience delivery - breaking silos to cultivate hyper-agile, cross-functional professionals delivering transformational change for Enterprise organizations globally.
---
The most exciting aspect of being part of the Powered by We (PxWe) team at WeWork is showing up to work every day and entering into a wildly heterogeneous mix of expertise. It is unlike anything I have experienced in my career. Irrespective of how enthusiastically media organizations tell the stories of solitary genius, the truth, of course, is that architecture is a team sport. However, traditionally the players are sorted by their respective disciplines - each working in their own offices, connecting with other players when it is deemed necessary or contractually obligated.

There have been attempts by organizations to bridge this disciplinary divide - design-build, integrated project delivery, among others - but nothing like the undertaking at WeWork. The PxWe team is composed of a dizzying array of functions. Workplace strategy, interior design, art & graphics, ICT engineering, MEP engineering, design technology, construction management, sourcing and supply chain, sales, cost estimation, lighting design, building openings, community, to name a few. It is an unprecedented synthesis of the planning, design, delivery, and operations processes that drive the workplace experience.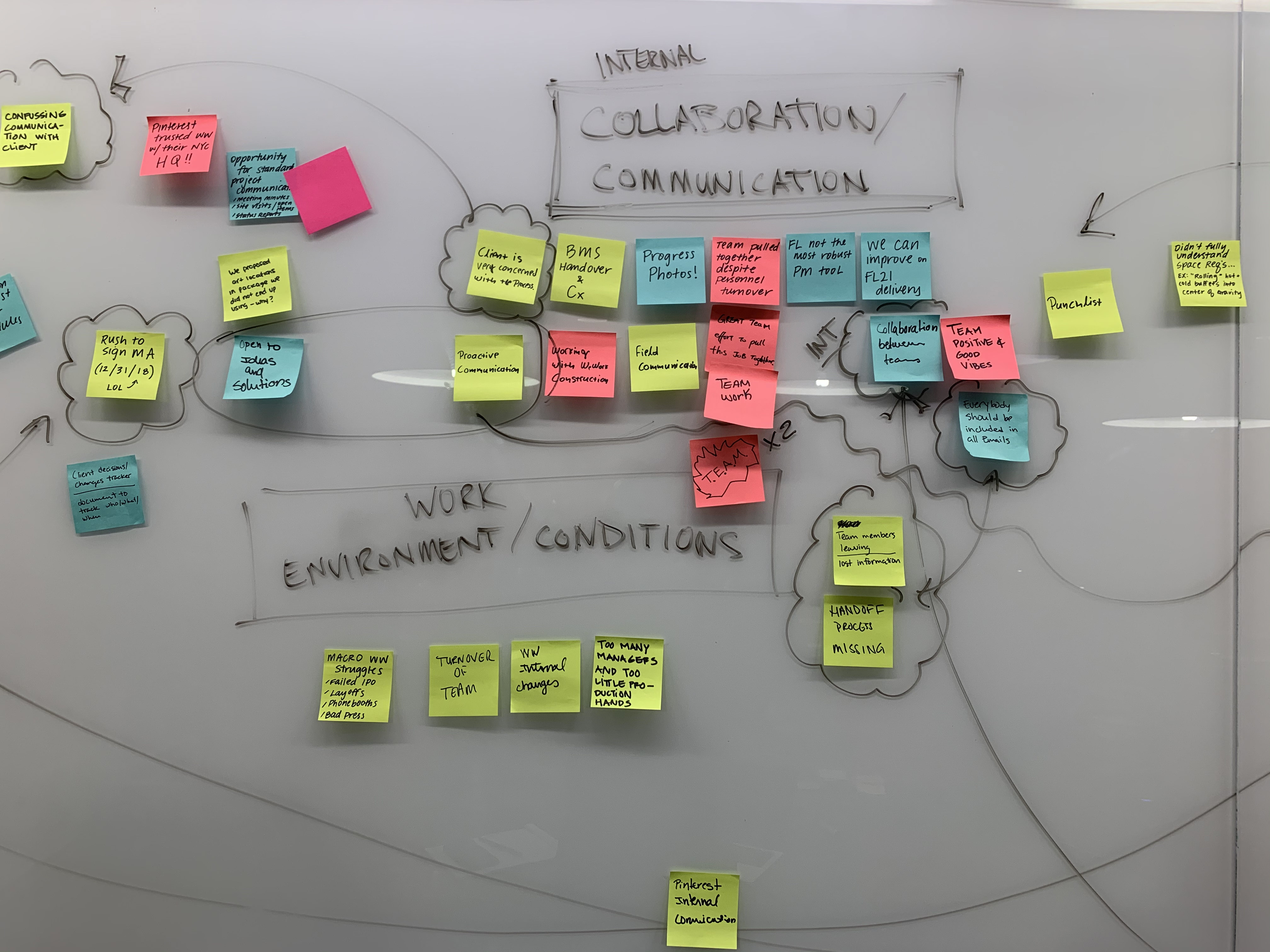 ---
In project retrospectives and cross-functional examinations, our team has taken to making extensive use of Design Thinking methods to articulate and explore issues, build alignment, and prioritize action steps.

---
---
---
This example shows an impact/difficulty matrix from an architecture and MEP engineering cross-functional examination. The relationship between an item's relative impact and difficulty develop a clear framework for thinking about related issues. We took this categorization further by overlaying a phasing structure - simple concentric rings capture effectively capture ways to prioritize areas of work.
---
We, the PxWe team, focus on servicing WeWork's Enterprise member segment, whose strategy, delivery, and operational needs are markedly different from those of the co-working member community. As an architecture discipline manager, it is my responsibility to recruit, coach, and guide the architects on the team as we collectively advance a new approach to creating spatial experiences. I am part of a broader design leadership team, comprised of directors and discipline managers.

Early in my tenure of this role, I recognized both the opportunity and critical need to develop a platform for cross-functional learning and adaptation. Our team works and delivers projects at an unprecedented pace. Nonetheless, given the rapid growth and ever-evolving environment that WeWork is, I believed it was essential to examine functional relationships in a focused manner and improve upon them iteratively and rapidly.
---
We rigorously conducted examinations with a consistent framework, a double diamond. The spread of each diamond is a generative/divergent exercise, and the closure of the diamond is a distillation/convergent exercise. With every examination, it was necessary to give team members the space to share their thoughts privately about the team's identity, aspirations, and growth tactics, anonymize this feedback and share it with the group to create a shared foundation of knowledge from which to proceed.
---
Bringing professionals together to work in a new way will bring intrinsic lessons with the completion of each project. However, were we questioning the baggage and habits we brought from professional muscle memory? What opportunities are there to rethink the relationship between functions in our context? How do we understand each other's roles? Understandably, we don't ask these types of questions in a project retrospective, rightfully framed within the project's context. I self-initiated cross-functional examinations as a venue to dig into these inquiries, build alignment, and advance functional relationships and effectiveness.

Each examination focused on a functional pairing and tackled three questions:

Identity
How do you define your function? Likewise, for the other.

Aspirations
How do you hope your function will grow and evolve on this team? Likewise, for the other.

Growth Tactics
What do you perceive to be blockers to accomplishing the desired growth? What can we do about it?
We built considerable alignment between team members by addressing these three themes. The strengthened understanding between functions on identity alone would have made the examinations a productive use of time. We achieved that, and much more. I believe that understanding where a partner is trying to go, what their aspirations are, and vice versa, opens up our collective imaginations to reconsider how we work together - genuinely charting new territory.

I used Design Thinking techniques to facilitate the examinations. Design Thinking methods played an important role because they dramatically increased the idea output from the groups under consideration. Our high-volume production allowed us to draw broad, insightful, actionable insights from large groups in short amounts of time. We iterate constantly. The examinations offer perspective and inform how teammates work together at the project and functional management levels.

Notes about my role

I self-initiated the cross-functional examination series, as a forum for the rigorous inspection and adaptation of our team's working methods. I leveraged aspects of frameworks not common in architecture, such as SCRUM, Agile, and Design Thinking, to establish a structure for examining functional relationships and co-creating solutions for improving them iteratively.

I serve as the Architecture Discipline Manager on a cross-functional team including, but not limited to, interior designers, MEP engineers, ICT engineers, sourcing and supply chain, lighting design, art & graphics, and design technology. We work in an unprecedented coordinated manner to deliver workplace experiences.

Client
WeWork

Typology
Organizational Design, Design Thinking Workshops

Location
New York, NY

Size
N/A

Timeline
2018

Status
Ongoing

Program
Facilitation, programming, session planning, coordination, synthesis and reporting.