Civic Leadership Program
American Institute of Architects, New York
---
AIANY Civic Leadership Program, strengthening capabilities in advocacy, public engagement, and community leadership to drive progress on entrenched societal issues - broadening imaginations as to how architects can affect change in society.
---
The AIANY Civic Leadership Program (CLP) assembles an intimate cohort of emerging architects to develop their skills and abilities as advocates, public servants, and stewards of the public interest. The CLP seeks to foster a deep sense of agency and civic responsibility among emerging architects that will sow lasting benefits for the profession, communities, and nation. An enduring culture of advocacy and civic engagement in architecture is imperative to have a sustained and compelling voice to steer progress in our collective society. The CLP was borne out of this belief, and inaugurated in 2017 with a class of ten emerging architects.
Before starting the CLP, it was my understanding that architects, by and large, designed buildings and spaces in the service of clients. My application to the CLP was motivated, at least in part, by skepticism that this understanding was comprehensive. I love buildings, and I love making buildings - I've been fortunate to work on public buildings that directly impact the civic realm. Nonetheless, I yearned to find broader avenues to exercise my skills and ability to affect change.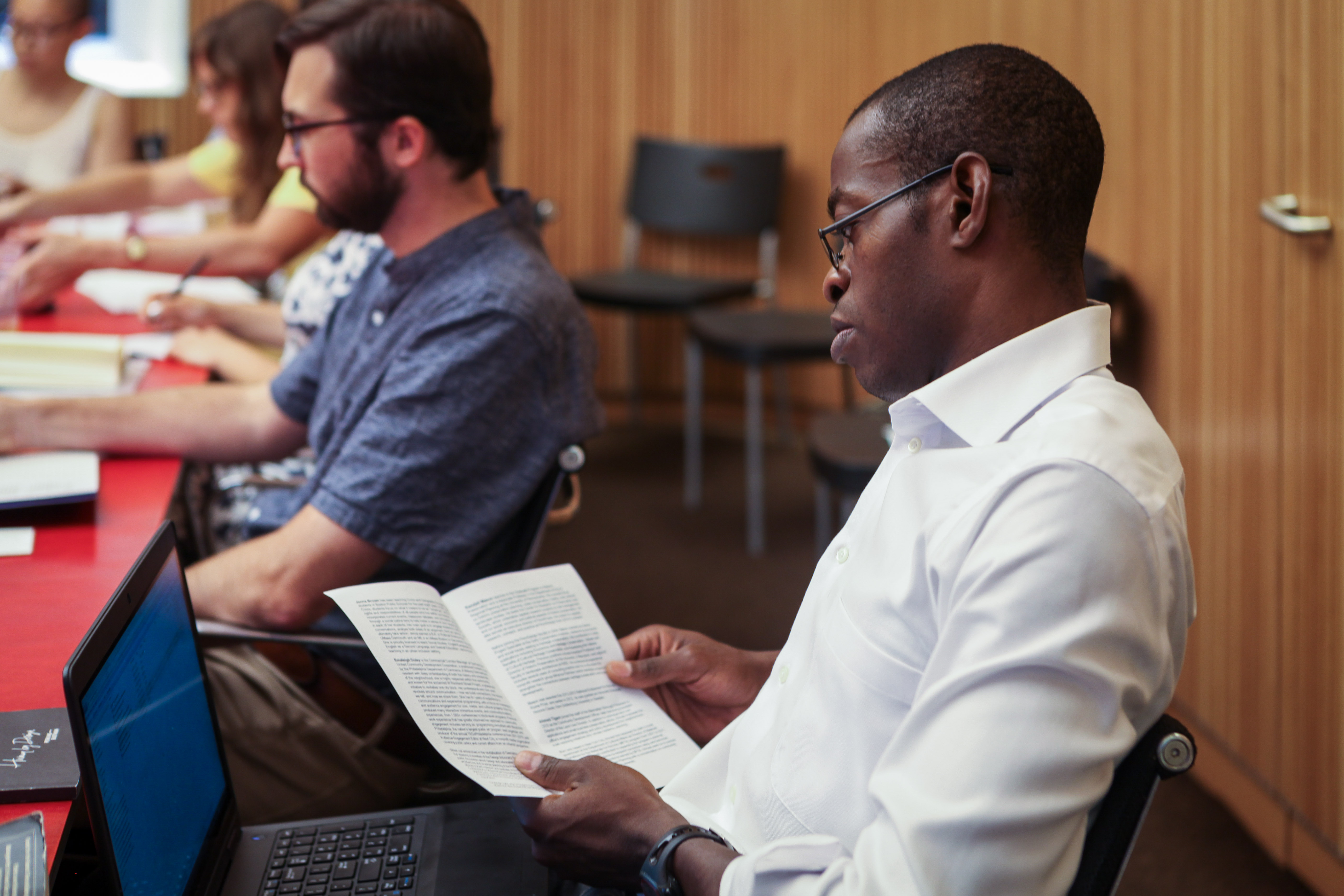 The program's advisors structured the curriculum into five development sessions and two public events. Civic leaders were paired and tasked with curating and organizing each development session, with the guidance of the program's advisors. We worked in two larger groups to concurrently curate and organize two public programs at The Center for Architecture in New York City.

The range of civic interest and experience brought by the cohort provided fertile ground for an expansive, illuminating experience. Interests varied from issues of coastal resilience to models for community planning centers and more. Michaela Metcalfe, currently Design Director for Design Excellence at the NYC Dept. of Design & Construction, and I were partners in the program. We were both genuinely interested in co-creative design processes between architects and the communities they serve. We quickly coalesced around exploring strategies and tactics for effective community engagement practices for our development session.

Our development session of the CLP was The Activist, the Architect, the Artist: Case Studies in Civic Engagement. The session's key objective was to exhibit design processes that root design decisions in the fertile seedbed of community stakeholder knowledge - leading to spatial outcomes uniquely equipped to serve its community. Through two separate panel discussions, we explored various forms of civic engagement through multi-disciplinary case studies in communities, both large and small. We examined how the power of shared decision-making impacts and strengthens design processes, how activating community resources could foster inclusive design-thinking, and we discussed strategies for empowering residents and citizens with a sense of agency in shaping the public realm.
While each panelist had a unique expertise, interest, and perspective, each was an activist - committed to earnestly addressing issues of public concern. Their commitments to collaborative processes that positively transform shared civic spaces exemplified the qualities that we seek to cultivate in ourselves.

Along with four classmates, we organized the public event Of The People, By The People, For The People: Grassroots Movements and Policy Transformations. The event highlighted the remarkable efforts of a group of architects whose work operates at the forefront of civic action - expanding upon the notion of Citizen Architect.
Inherent to the problem-solving nature of architecture as a discipline is the ability to synthesize disparate needs and constraints, and develop solutions that foster an ideal environment. Today, I recognize abundant opportunities for architects to influence chronic and nascent issues in society. I believe the insertion of architects into non-traditional positions through civic leadership and engagement is vital in advocating for positive change.
Notes about my role

The program tasked fellows to work in pairs to craft and facilitate a development session, private to the fellow cohort, based on the pair's civic interests. Separately, we worked in two groups that were each tasked with crafting and organizing a public program held at the Center for Architecture in New York.

Working with my partner, Michaela Metcalfe, we collaborated to design a program intended to serve as a survey of methods of community engagement. We brought together artists, activists, and architects whose working processes involved high degrees of co-creation with community residents and stakeholders.

Alongside four of my fellow Civic Leaders, we worked together to craft a program that brought to the fore unconventional paths architects have taken to serve communities. These include leading local governments, the invention of community development centers by Ron Shiffman, and running municipally led community revitalization efforts in Detroit.


Client
American Institute of Architects, NY

Typology
Civic Engagement,
Program Planning & Execution

Location
New York, NY

Size
N/A

Timeline
2017

Status
Complete

Program
Development session planning & coordination, organizational outreach, synthesis and reporting, public event planning & coordination.